Onigen

Onigen

Alias:

Demon of the Wind
Dark Swordswoman

Age:

6,000s (Appears 23-24)

Species:

Demon

Gender:

Female

Affiliation:

Occupation:

Demoness of Legend

Martial Status:

Single

Status:

???

Allies:

Enemies:
"
To follow one's path, you must sometimes let go those dear to you. Otherwise, you may end up hurting them. And for that, I am truly sorry.
"
--Onien to Keito
Onigen is a demon that is known to be powerful in legends and takes on the form of a beautiful japanese woman to deceive her enemies into thinking that she's human. She served as Sayuri Kyuubi's archenemy, believing her to be responsible for the Nine-Tailed Demon Fox attack on her village that cost her parents their lives, resulting in making her a major antagonist in the story, with John Wesker believing to be her partner. Her human lover is Hakuro Bakura, and her son is Keito Bakura.
Appearance
Edit
Personality
Edit
Onigen is very serious and enigmatic, and usually quiet in very word.
Life of Solitude
Edit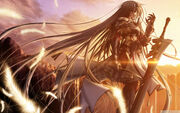 The First Contract
Edit
Birth of the Tailed Beasts Time of Christ and Betrayal
Edit
Discovery and Acceptance
Edit
Powers & Abilities
Edit
Immense Strength:
Immense Endurance:
Immense Durability:
Immense Speed:
Immense Reflexes:
Immense Flexibility:
Immense Agility:
Immense Stamina:
Instant Regenerative Healing Factor:
Immense Demonic Power:
Master Tactition:
Master Swordsmanship Specialist:
Master Hand-to-Hand Combatant:
Relationships
Edit
Keito Babura
Edit
Hakuro Bakura
Edit
Sayuri Kyuubi
Edit
Kenta Alexander
Edit
Legato Canaan
Edit
John Wesker
Edit
Yokai Council
Edit
Order of the Saint
Edit
Nine-Tailed Demon Fox
Edit
Marie Bermack
Edit
Etymology
Edit
Onigen's theme song is "GUILTY" by Anna Tsuchiya.
Community content is available under
CC-BY-SA
unless otherwise noted.